The Ultimate Street Truck | 775hp
2021-23 SHELBY F-150 SUPER SNAKE
In 2017, Shelby American released the Lightning inspired Shelby F-150 Super Snake street truck. The renowned platform was one of the most successful in Shelby history. With Ford giving the F-150 a makeover 2021, making the truck the toughest, most productive F-150 ever. Shelby gave the Super Snake truck a completely new look inside and out, remade the suspension system, and added horsepower to the V8 muscle truck.
A 775 horsepower supercharger paired with Fords 5.0L Coyote V8 is at the heart of the Super Snake truck. Planting that horsepower to the pavement is an all new proprietary suspension system that lowers the truck, improves street performance, and helps plant the optional 775 horsepower to the pavement.
Inside, the truck has two-toned leather seat covers with Shelby emblems, the official Shelby serial number and Shelby floor mats. Each truck has deep tinted windows to keep the interior cool and a ram-air style hood.
A limited number of these trucks will be built.
775 SUPERCHARGED HORSEPOWER
Working with amazing partners Whipple and Borla, the supercharger pumps out an impressive 775 horsepower with a hair raising tone that is uniquely Shelby. The system gets the most out of the perfected Ford 5.0L V8 Coyote platform.
HANDLE THE STREETS
Working with partners ridetech and FOX, the Supersnake truck's lowered suspension is completely new for 2021. The system includes front and rear adjustable shocks, upper control arms, rear traction bars, and a rear sway arm. The system lowers the truck, improves street performance, and helps plant the optional 775 horsepower to the pavement.
CUSTOM SHELBY INTERIOR
Ford took the F-150 interior and completely redesigned the truck to elevate the owners' experience with style, comfort and utility. Shelby provides touches with full two-tone leather seat re-covers, Shelby badging, carbon fiber touches, deep-tinted windows and billet racing pedals.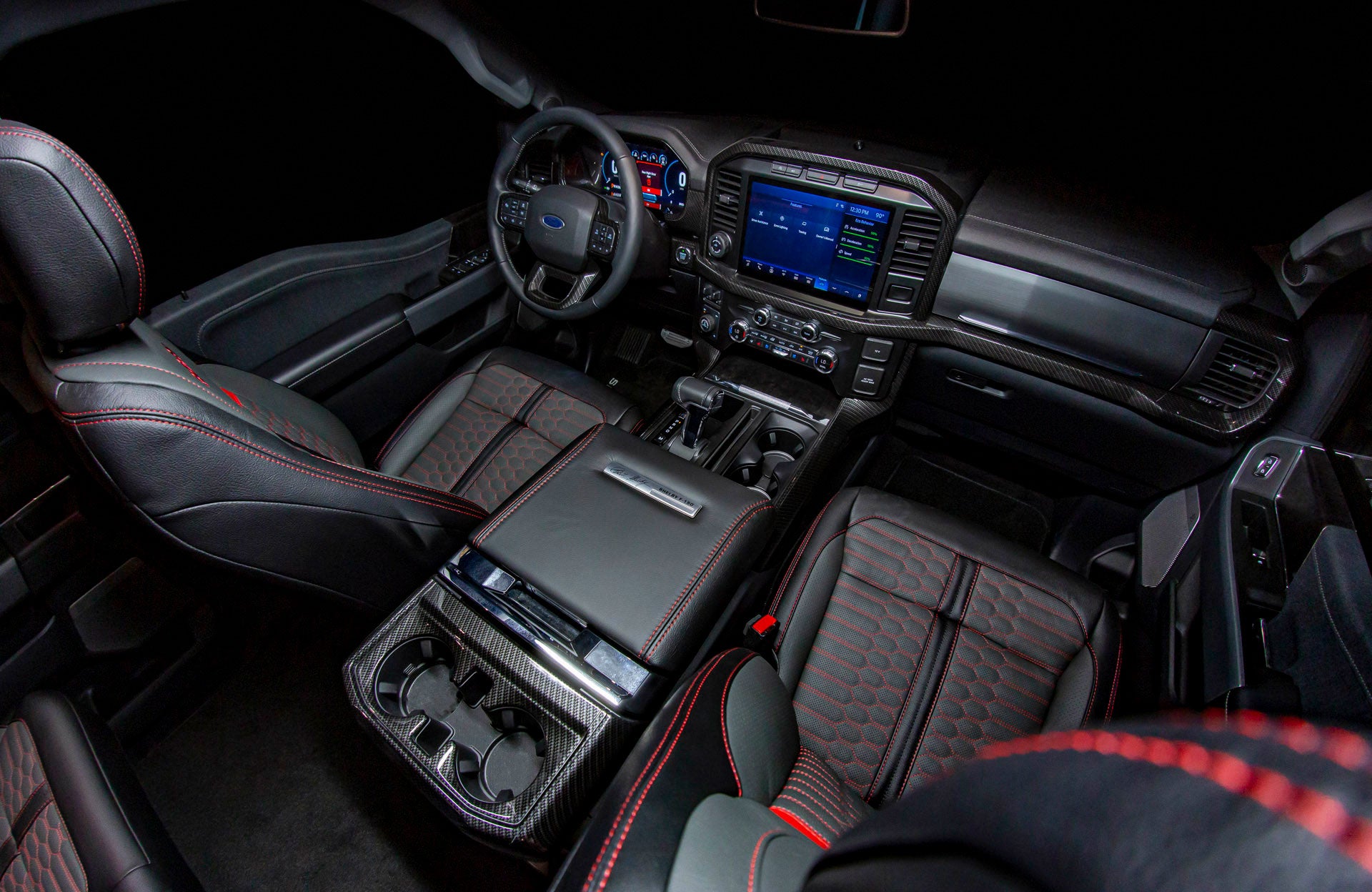 Vehicles are sourced through our dealer networks and personal contacts in the US and imported into Australia. Right hand drive conversions of the SHELBY F-150 Super Snake are performed through Mustang Motorsport in conjunction with its founding company Crossover Car Conversions, which have been performing highest quality right hand drive conversions since 1990.
Hand-built with exquisite attention to detail and uniquely serialised, the 2021-23 SHELBY F-150 SUPER SNAKE is built by Mustang Motorsport under licence by SHELBY American.
FEATURES & SPECIFICATIONS
7 state & territory legal ADR engineering compliance
Shelby engineered 775HP supercharger system: Performance air intake with high flow filter - Supercharger & Intake manifold, powder coated Ford Racing blue - Oversized carbon fiber air intake tube - Performance aluminium heat exchanger - Billet throttle body - High flow fuel injectors
Shelby by Borla performance exhaust
Polished SST dual exhaust tips
Shelby by ridetech suspension system: Front ridetech/FOX adjustable coilover shocks - Rear ridetech/FOX adjustable shocks - Upper control arms - Rear traction bars - Rear sway bar
Dual Intake "RAM AIR" hood with vents
22" Shelby chrome alloy wheels
Performance spec tyres
4 piece body side ground effects
Shelby front splitter
Fender flares, painted body colour
Front fender vents, air managed
Front bumper cover with air managed intake vents
Shelby badging and LeMans style striping
Shelby front grille, air managed, painted
Painted rear bumper cladding with vents
Painted door handles and mirror caps, door trim
Tonneau cover with bed rug liner
Two-tone leather seat recovers
CSM numbered dash plaque and engine plate
Carbon fiber interior package
SUPER SNAKE badged console lid
Embroidered headrests
Floor mats
Deep tinted windows
Billet racing pedals