EXTREMELY LIMITED | 2023 ONLY | 825hp - 615kw
2023 SHELBY CENTENNIAL EDITION
Shelby American is honouring the 100th anniversary of our founder's birth with a small run of special edition Shelby Mustangs, based on the 2023 Ford Mustang GT. Introducing the new supercharged Carroll Shelby Centennial Edition Mustang.
Based on the spectacular 2023 Ford Mustang GT, the new supercharged Carroll Shelby Centennial Edition Mustang is a well-balanced car that features far more than just a horsepower upgrade. The team also sharpened the handling and enhanced the styling of the world-class 5.0L V8 Mustang GT. The package includes a black Stetson hat and copy of the Shelby Centennial Book published by Team Shelby.
Enthusiasts can choose to drive a Shelby fastback or convertible with either a manual or automatic transmission. As a post-title program, any stock Ford Mustang color is accepted.
Only 100 will be built by Shelby American in Las Vegas with a handful transformed by offical international mod shops.
"This Shelby Mustang delivers the level of performance that Carroll expected to have his name on a car. We're so confident that he'd approve of the Carroll Shelby Centennial Edition Mustang that we are throwing in a black Stetson like the one he wore, with each car."
Vince LaViolette, Shelby American Vice President of Operations and , Test Driver and Chief of R&D.
EXTREMELY LIMITED. ONLY AVAILABLE FOR 2023 MUSTANG GT.
Images of concept vehicle shown. Production features may vary.
INTERIOR
Many special touches were included in this tribute build including signature floor mats, door sill plates and custom leather recovers with the Carroll Shelby Centennial Edition logo.
WHEELS & TYRES
The Carroll Shelby Centennial Edition Mustang rides on 20" light weight one-piece forged monoblock aluminium wheels mounted with performance tyres.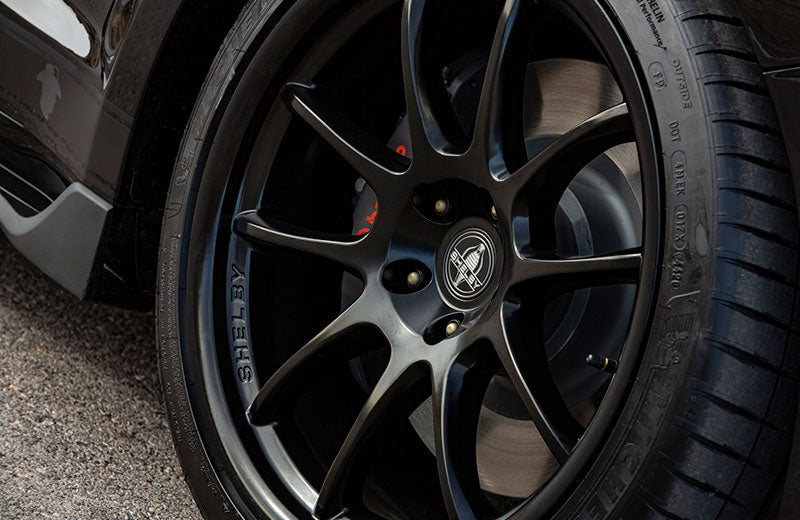 ENGINE
Under the hood the Shelby Mustang is equipped with a "Black Hat" supercharger pushing 825 horsepower, paired with a custom Borla cat-back exhaust system to honour the legend.
Hand-built with exquisite attention to detail and uniquely serialised, the 2023 SHELBY CENTENNIAL EDITION is built by Mustang Motorsport under licence by SHELBY American.
FEATURES & SPECIFICATIONS
7 state & territory legal ADR engineering compliance
MM driveline warranty 3yr/60,000km
EXCLUSIVE ADDITIONAL ITEM: Carroll Shelby Edition Black Stetson Hat
EXCLUSIVE ADDITIONAL ITEM: Carroll Shelby Centennial Book
825hp Supercharger (Black) with Gauge Pod
Shelby Front Fenders (Aluminium, Extended Width)
Shelby Satin Black 20" x 11" Wheels
Shelby-spec 305/30/20 performance tires
Shelby Vented Hood
Shelby Performance Radiator
Shelby Under-hood Fluid Cap Kit
Shelby by Borla Cat-back Exhaust
Performance springs
Performance sway bars
Adjustable Caster / Camber Plates
Shelby Upper Grille
Shelby side rockers and rocker wings
Shelby-spec Rear Spoiler
Shelby Tail Panel with Centennial Logo
Le Mans Over-the-top Satin Black Vinyl Striping
Shelby Centennial Side Rocker Stripes
Shelby Centennial Emblems & Badges
Shelby CSM Numbered Dash and Engine Bay Plaque
Shelby-spec Leather Interior Upgrade
Shelby Door Sill Plates
Shelby Floor Mats